LTO-6 Data Tape
We supply LTO-6 tape, are a UK based company supplying both the UK & international market with LTO solutions. Next day delivery call 01256 331614.
We provide LTO-6 tapes from Fujifilm, HP, IBM, Quantum, Spectra, Sony, TDK in packs of 5-5,000 tapes.  We even supply barcode labels and media packs!
LTO-6 tape has made improvements that significantly increase the stability of the rotating tape reel which enables stable, high-speed linear tape motion, necessary to realise the higher capacity and increased transfer speed of LTO-6 data cartridges.
Enhanced servo signal accuracy and improved linear tape motion
Enhanced servo writing technology and improved linear tape motion enable narrower tracks to be written and read accurately, resulting in higher recording density.  In addition, Sony conducts 100% servo signal quality testing in order to provide our customers with confidence in using Sony LTO-6 data cartridges.
Improved binder system for more stable operation
To provide enhanced tape durability and reliability, Sony LTO-6 tape utilises an improved, Cross-linked Binder System which provides superior wear resistance characteristics in addition to accommodating the super-fine magnetic particles.
The improved robust magnetic layer can withstand more that tens of thousands of drive passes providing the user with stable and smooth operation under various environmental conditions.
Sony LTO-6 tape provides 2.5TB's of native capacity, 6.25TB compressed at a transfer rate of 160MB/s native and 400MB/s compressed.  LTO-6 tape is the latest generation of LTO (Linear Tape Open) and is ideal for large systems backups or suitable for archival purposes and provides peace of mind from the world's largest manufacturer of LTO tape media.
All Sony LTO media has a lifetime guarantee against defects. If for any reason your LTO-6 tape becomes defective Sony will send out a replacement. In addition to this if the media fault leads to data loss and it has been kept in the correct environmental conditions and used correctly Sony also provides a tape data recovery service.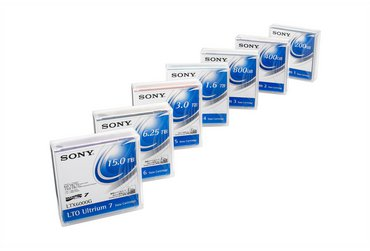 Sony LTO-6 tape - LTX2500G
If purchasing 20 or more pieces of Sony LTO-6 tapes we can provide you with printed barcodes for use in your LTO tape library that have the correct barcode sequence.
General Characteristics
Magnetic material Metal Particle
Cartridge Width (mm) 105.4
Cartridge Height (mm) 102.5
Cartridge Depth (mm) 21.5
Weight with case (g) 275
Physical Characteristics
Tape Length (m) 846
Tape thickness (μm) 6.4
Tape width (mm) 12.65
LTO-6 tape capacity - 2500GB / 6250GB
sony-lto-tape datasheet
*The actual capacity, compression ratio and data transfer rate may vary depending on equipment, software usage, environments and data. 1TB = 1 Trillion bytes *compressed