LTO Tape Library Packs
LTO Tape Library Packs are supplied with a pack of 20 LTO Ultrium cartridges. Can be pre-labelled upon demand to allow the cartridges to be used in tape automation systems.
Transparent case enabling easy identification of bar-code information, separate cells for each cartridge preventing from damage in logistics.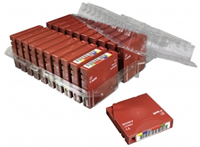 The LTO library packs are designed to reduce packaging waste whereby each individual LTO tape is no longer wrapped in plastic film and it does not have the paper inserts. They are designed for bulk load operations and save considerable time as you have nothing to un-wrap.
Each library pack contains 20 pieces of media housed in a protective case.