LTO 2 Data Tape
LTO 2 tape media provides 200GB's of native capacity, 400GB compressed at a transfer rate of 40MB/s native and 80MB/s compressed.
We provide LTO 2 tapes from Fujifilm, HP, IBM, Quantum, Spectra, Sony, TDK in packs of 5-5,000 tapes.  We even supply barcode labels and media packs!
All Sony LTO tape media has a lifetime guarantee against defects. If for any reason your LTO 2 tape becomes defective Sony will send out a replacement. In addition to this if the media fault leads to data loss and it has been kept in the correct environmental conditions and used correctly Sony also provide a tape data recovery service.
If purchasing 20 or more pieces of Sony LTO 2 tapes we can provide you with printed barcodes for use in your LTO tape library that have the correct barcode sequence.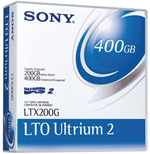 General Characteristics
Cartridge Width (mm)102.0
Cartridge Height (mm)105.4
Cartridge Depth (mm)21.5
Magnetic material Metal Particle
Physical Characteristics
Tape length (m) 609
Tape thickness (μm) 8.8
Tape width (mm) 12.65
LTO-2 tape capacity - 200GB / 400GB
sony-lto-tape datasheet