We supply LTO backup tape drives from all the major vendors including Fujitsu, DELL EMC, HP, IBM, Lenovo, Quantum, mTape, Spectra & Tandberg. An LTO tape drive is designed to store backed up data from computer systems and retain the information in case it is required to restore data, we are able to supply internal or external LTO tape drives with Thunderbolt, SAS, iSCSI or Fibre Channel host connection options.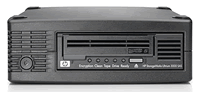 The tape we supply are all based on LTO tape technology and are available in the following formats:
LTO-3 - 200/400GB
LTO-4 - 400/800GB
LTO-5 - 1.5/3.0TB
LTO-6 - 2.5TB/6.25TB
LTO-7 - 6TB / 15TB
LTO-8 - 12TB / 30TB
LTO-9 - 15TB / 45TB
LTO Tape Drive Compatibility
LTO tape technologies, the LTO tape is rigidly defined by a particular generation of LTO technology and cannot be used in any other way. While LTO tape drives are also defined by a particular generation, they are required to have some level of compatibility with older generations of cartridges. The rules for compatibility between generations of drives and cartridges is as follows:
An LTO backup drive can read data from a cartridge in its own generation and the two prior generations i.e. LTO-7 can read LTO-5 tapes.
LTO-8 can only read a single previous generation of tape.
New LTO-7 tapes used with an LTO-8 drive provide 22.5TB of capacity vs 15TB normally.
An LTO drive can write data to a cartridge in its own generation and to a cartridge from the immediate prior generation in the prior generation format i.e. LTO-7 can write LTO-6 tapes.
An LTO drive cannot make any use of a cartridge from a more recent generation i.e. LTO-7 cannot be used by an LTO-6 drive.
For example, an LTO-6 cartridge cannot be used in an LTO-5 drive, it can be used in an LTO-7 drive, although it performs as if it were in an LTO-6 drive.
If for any reason you cannot see or need to discuss your LTO tape drive requirement, are interested in trading up an existing drive or require support renewal, we are happy to discuss your requirements in more detail over the phone or have a meeting and provide a quotation.
In addition to the LTO backup tape drives, we can also supply LTO tape media in small quantities or in bulk.
For free advice or a quotation on an LTO tape drives please call us on 01256 331614.