Backup Restore Software
Backup Software today has evolved to become a heterogeneous backup product able to backup Windows Servers, Linux, Apple, Unix, Virtualised Infrastructures etc. All of this is done from a centrally managed and controlled system. This means software can now execute all of the above with the minimum of user intervention. The initial cost of implementing a centralised tape library and backup software solution might initially seem high but over a 3-5 year period would pay for itself many times over.
The biggest benefit of using tape media as a backup medium is that it offers the highest capacity, it's removable and offers the lowest cost per TB of any other storage media.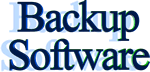 As tape drives get faster the need to reduce backup times and optimise the tape drive performance start to become paramount. Many backup software packages allow multiple streams of data from multiple sources to be streamed concurrently to the tape drive(s) thus ensuring the device continues to stream rather than stopping and starting (shoe shining). This causes unnecessary wear and tear on the drive mechanism which can over a prolonged period create a backup failure. Many of the software vendors today can also perform disk to disk to tape operations speeding up your backup and reducing the critical backup window. Some of the software also provides data deduplication which can reduce your backup volumes by up to 20:1.
Backing up to the cloud is also becoming a requirement.  The Cloud provides a perfect place to backup your tablet or notebook from any location on the planet, all you need is an internet connection.  We can provide a corporate backup solution that encompasses the cloud, tape and disk.
Backup Software solutions we provide
We have extensive experience in all of the following backup software and can provide installation and configuration assistance.
If you need a backup appliance combining software and hardware please call us, alternatively if you are looking for a comprehensive Cloud Backup Service call us.  We are now providing Cloud Storage to backup to the cloud.
With 20TB disk drives appearing in 2022 how will you solve your backup problems?
For free advice or a quotation on backup software please call us on 01256 331614.