We now have LTO-8 tape holding 12TB native, 30TB compressed. For years an LTO backup tape has been used to store large amounts of data at an affordable price. This latest generation of LTO-8 will remain a choice for companies who want data interchange, backup and archive capabilities. LTO tape technology is continually being developed by IBM, HP & Quantum and has a road-map that goes beyond LTO-10. We provide all types of LTO products and tapes, including barcode labels and racking.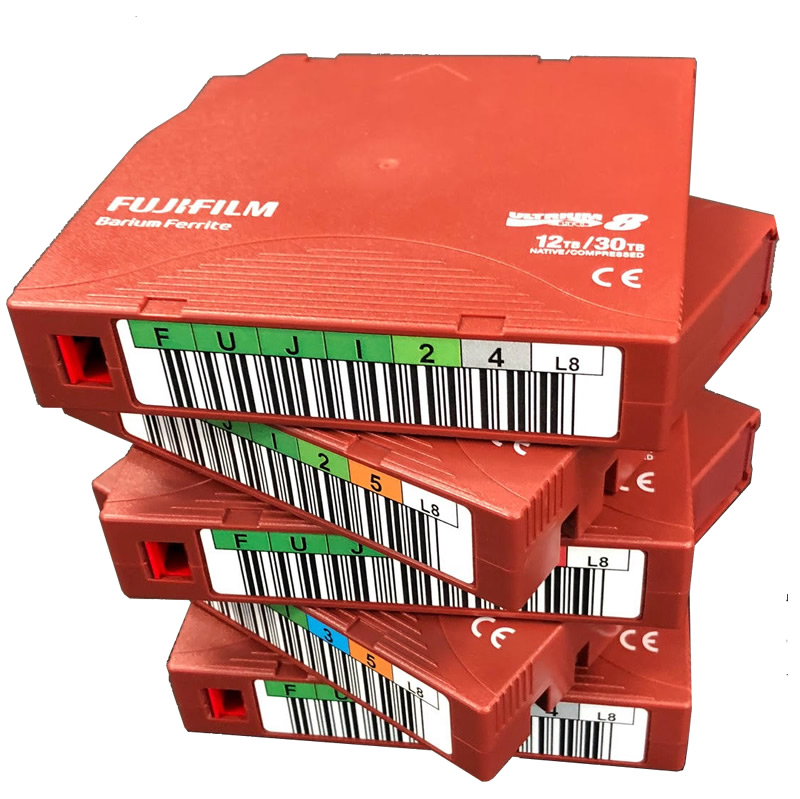 The latest announcements of LTO-10 holds 120TB at a transfer rate of 2750MB/s for more information on this latest generation of tape click here.
LTO for backup and archiving
Whilst tape provides the lowest cost per TB of any storage media it is still being used as a secondary backup storage media, as now hard disk are being increasingly used ad the main backup device. LTO-8 tape with a native capacity of 12TB, 30TB compressed is ideal for keeping and storing monthly/yearly backups as daily and weekly backups can be stored on hard disk. More companies are looking at storing backup data in the cloud which sort of makes sense as you have elastic storage for backup and no longer have to support large hard disk storage arrays on site to manage. For restoring small files and volumes cloud makes sense, problems arise when you need to restore multiple TB's of data as bandwidth kills download speeds. This is where LTO with it's high capacity, Green credentials and it's portability can certainly speed up the data recovery process in the event of a disaster. LTO tape when used with LTFS is ideal to store large volumes of data that is important to a business or organisation and needs to be kept for 20+ years. If you need to use LTO for the long term archive of data then you should be using LTO WORM tapes that are Write Once Read Many and cannot be overwritten as the WORM tapes use copy protection mechanisms.
The LTO format
As LTO is an Open Tape Format you will not be locked into single source supply for media and is chaired by three companies IBM, HP & Quantum. The LTO format has a road-map that goes beyond LTO-8 which was launched Q4/17 and allows 12TB's native of information to be stored on LTO tape with an impressively high transfer rate of 900MB/s.
We are here to help
Talk to Fortuna Data today about your need for an LTO backup tape solution, and consider using LTO as the Green Storage option for that will save money with reduced running costs and faster access to data stored on an LTO storage solution.
As organisations continue to evolve, the data they generate is increasing in size at an exponential rate, and we see LTO requirements doubling roughly every 18 months. As the amount of data stored increases, so the demand for faster access and a need for more streamlined methods of LTO storage. It's our goal to design and deliver and LTO solution for you that will include the flexibility to grow with demand while encompassing operating systems, LTO media formats and availability of information.
Contact us
If you would like us to quote for the new LTO-8 products then please call us on +44 (01256) 331614 or complete our form and we will respond immediately.