The Spectra Stack Tape Library is a cutting-edge data storage solution offered by Spectra Logic. Designed for mid-sized businesses that require dependable and efficient data management, this tape library offers an impressive level of scalability, flexibility, and security.
Spectra Stack Tape Library Features
Scales from 720TB (LTO-9) to over 10PB natively
100% duty cycle ensures continuous 24/7 running
Scales to 560 slots and 42 tape drives
Supports LTO-9 and IBM TS1150
Each stack can support up to 6 drives
Can expand to 7 modules, 30 minute expansion time for configuration
Connect via SAS or FC
Modular Design
With its modular architecture, the Spectra Stack Tape Library can be customised to fit any business's specific needs. It can be scaled from as few as 40 to as many as 560 tape cartridges, providing up to 25PB of compressed storage capacity. This allows businesses to easily expand their data storage capabilities as their needs grow, without having to purchase additional equipment.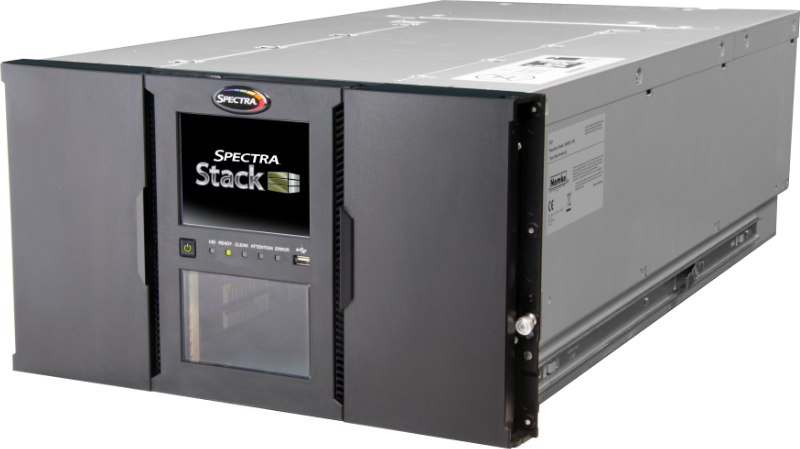 Tape provides the best ROI of any storage solution
Data is critical to business, but long-term storage is often cost prohibitive. Tape is known for its affordability – and the density, reliability and cost effectiveness of LTO tape media has made it an industry leader in this arena. The perfect solution for addressing exponential data growth and storage challenges, Spectra Stack's utilisation of LTO tape technology assures a solution designed for dependability and cost effectiveness – delivering the most affordable cost per GB in the industry.
Tape Library Compatibility
The Spectra Stack Tape Library is also designed to be highly flexible with compatibility with a wide variety of backup and archive software applications, making it easy to integrate into existing data management workflows.
Veeam
Arcserve
Commvault
Veritas
HPE
Dell Technologies
IBM Spectrum Protect
StorCycle
BlackPearl
Archiware
Oracle DIVArchive
Spectra Stack Security Features
Security is another key feature of the Spectra Stack Tape Library. The library incorporates advanced encryption technology, which ensures that all data stored on tapes is fully secure. It also features a range of other security measures, such as access control, audit logging, and media integrity verification.
Overall, the Spectra Stack Tape Library is an impressive data storage solution that offers businesses the scalability, flexibility, and security they need to effectively manage their data. Whether you're looking to expand your current storage capabilities or implement a new data management solution, the Spectra Stack Tape Library is an excellent option to consider. Learn how a Spectra Stack tape library can help against a Ransomware Attack.
Spectra Stack Tape Library Datasheet
Something Larger?
Are you looking for something larger that can scale? If so you might want to consider the Spectra T950 Tape Library
Understand why a Ransomware Attack can have a devastating effect on a business.