LTO 4 Data Tape
We provide LTO 4 tapes from Fujifilm, HP, IBM, Quantum, Spectra, Sony, TDK in packs of 5-5,000 tapes.  We even supply barcode labels and media packs!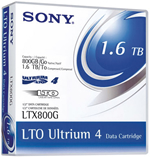 LTO 4 tape further develops new tape materials, coating technology and a surface-smoothing technology, LTO 4 tape offers a breakthrough in performance with a massive 800GB native and *1.6TB compressed maximum recording capacity.
High-performance data cartridge
To accommodate the LTO 4 tape's thinness and long length, the reel accuracy has been improved. Optimised hub roundness contributes to stable operation and a new flange shape protects the tape edges. As in LTO 1, LTO 2 and LTO 3, the LTO 4 tape cartridge incorporates a robust non-contact 8KB IC memory with twice the capacity of previous generations.
High-density recording with low error rate
To correspond with a further high-density recording by shortening the recording wavelength, LTO 4 adopts newly developed fine magnetic particles. Further optimising the dispersing technology for LTO 4, Sony realised high dispersion and high packing density of newly developed fine magnetic particles that are approx. 70% the volume of LTO 3. By introducing newly-developed tape surface-smoothing technology. Sony improved the tape surface while also realising noise reduction and boosting output in the high frequency range.
High stability of base film against elongation and shrinkage
LTO 4 tape realised high recording capacity by utilising thinner tape (LTO 3: 8.0µm–LTO 4: 6.6µm) to allow a longer tape length (LTO 3: 680m–LTO 4: 820M). Due to the increased number of data tracks (LTO 3: 704 – LTO 4: 896) and narrowed track width, higher stability of the base film against elongation and shrinkage is required. By optimising the strength balance of the base film and adopting newly-developed high accuracy cutting technology, Sony LTO 4 realises high stability under various operating conditions.
Reduced tracking errors
Since LTO 4 has very thin magnetic layer, a decrease of servo signal output recorded on tape was a concern. Despite thin magnetic layer (approx. 0.1 µm) Sony realised high stable servo signal output by employing bias recording theory to optimise servo recording signal control. With the increase of the number of data tracks, more accurate tracking technology is required. Sony realised a stable operation on the thin (6.6µm) and smooth tape with a servo writer corresponding to high-density tracking that Sony developed for LTO 4 format, achieving high-quality magnetic servo signal writing. The result is significantly improved data writing and reading accuracy.
All LTO tape media has a lifetime guarantee against defects. If for any reason your LTO 4 tape becomes defective the manufacturer will send out a replacement. In addition to this if the media fault leads to data loss and it has been kept in the correct environmental conditions and used correctly can also provide a tape data recovery service.
If purchasing 20 or more pieces of LTO 4 tapes we can provide you with printed barcodes for use in your LTO tape library that have the correct barcode sequence.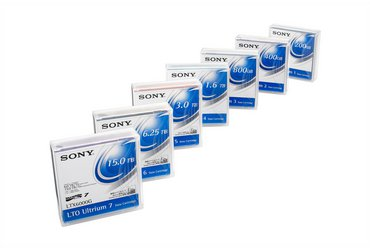 General Characteristics
Recording density (340 Kftpi)
Magnetic material Metal Particle
Cartridge Width (mm) 105.4
Cartridge Height (mm) 102.5
Cartridge Depth (mm) 21.5
Weight with case (g) 275
Physical Characteristics
Tape Length (m) 820
Tape thickness (μm) 6.6
Tape width (mm) 12.65
LTO 4 tape capacity - 800GB / 1600GB
*Compression ratio 2:1.