LTO-8 Tape Media
Providing solutions based on LTO-8, LTO-8 libraries, supplying a range of LTO-8 products from world leading LTO-8 manufacturers of hardware and media.
An LTO-8 provides 12TB's of native capacity, 30TB compressed at a transfer rate of 360MB/s native and 900MB/s compressed.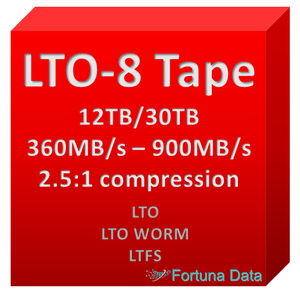 Designed for organisations that need to store massive amounts of information at the lowest cost per GB, the new media provides AES 256-bit encryption and has a 1019 bit error rate so an improvement in data reliability. It also continues support for LTFS that allows them to be seen as a very large USB drive!
We provide media from DELL EMC, Fujifilm, Fujitsu, HP, IBM, Lenovo, Quantum, Spectra, Sony, TDK in packs of 5-5,000 media. We even supply barcode labels and media packs!
LTO-8 Drives will be able to format new, new and unused LTO-7 media as Type M-8 media. This will allow the use of LTO-7 in the drive and increase the normal capacity of an LTO-7 by 50%, up to 22.5TB.
The drives are also backwards read/write compatible with LTO-7 so buying an LTO-8 drive will enable you to use LTO-7 media.
All media has a lifetime guarantee against defects. If for any reason your media becomes defective we will send out a replacement. In addition to this if the media fault leads to data loss and it has been kept in the correct environmental conditions and used correctly Fuji Film also provides a data recovery service.
For organisations that require LTO in their libraries, we can now provide these with either a new library or upgrade to your existing library, call us for details.
If purchasing 20 or more pieces we can provide you with printed barcodes for use in your library that have the correct barcode sequence.
Contact us
If you would like us to quote for the new LTO backup solutions then please call us on 01256 331614 or complete our form and we will respond immediately.